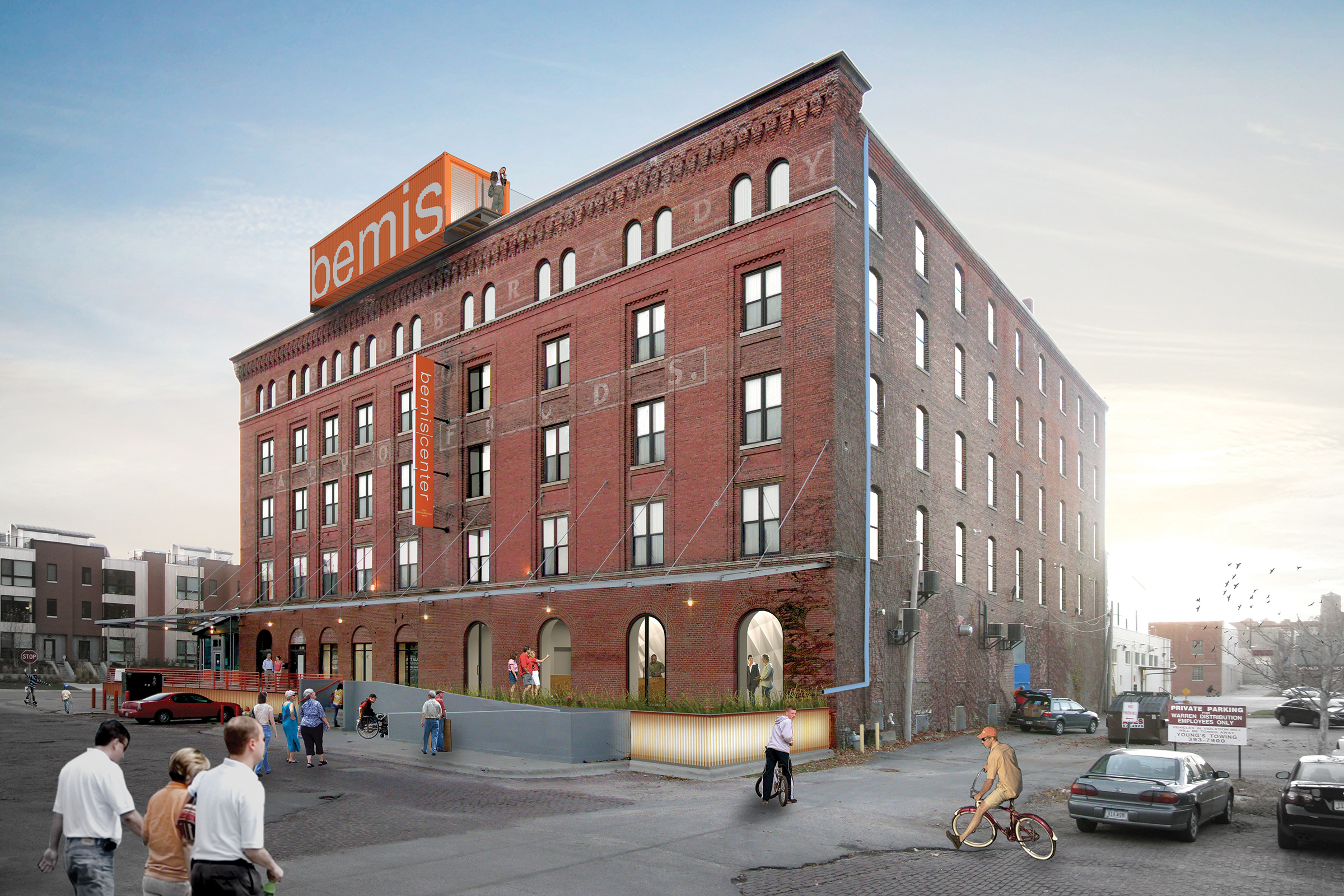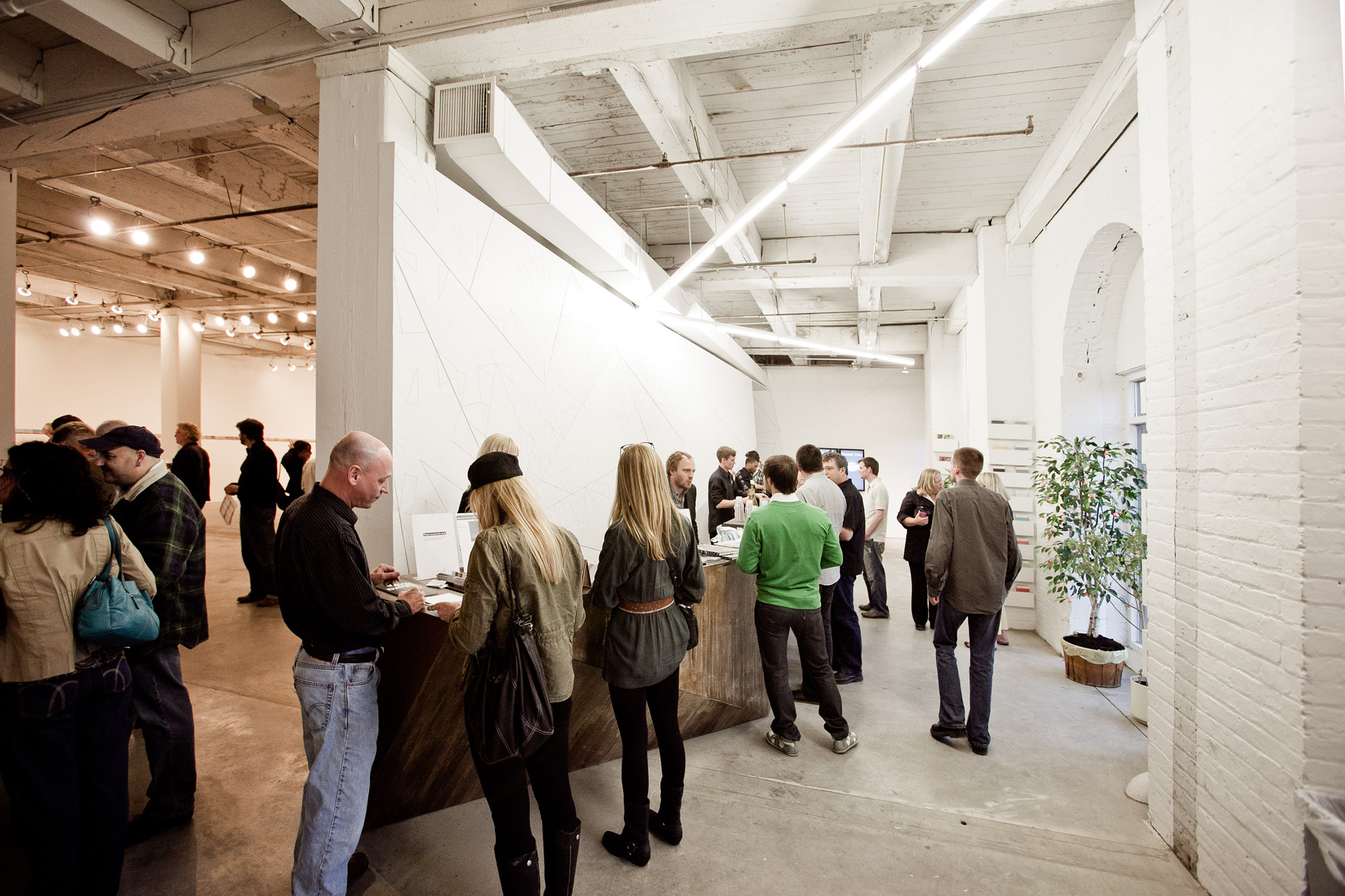 Framework Plan and Bemis Gardens
The goal of the expansion plan is to create fluid connections between public and private areas, and between indoor and outdoor spaces. Surrounding this work is the notion of bringing artists and the public together in novel ways, while keeping at heart the Bemis' primary mission to support the work of today's artists. Breaking down barriers is a significant challenge for art centers, especially between indoor and outdoor spaces. Bemis Gardens addresses this by transforming the former loading dock into a public gathering space and rain garden. The design process itself was a performance: over the course of 12 weekly design charrettes held in an exhibition/workspace, students, the public, visiting artists, and designers engaged in deep dialog about the nature of public space and landscape within the city, and the role of the contemporary art center in such spaces.
A number of artists including James Woodfill, Fritz Heag, and Michael Bietz contributed design input and permanently installed functional building components.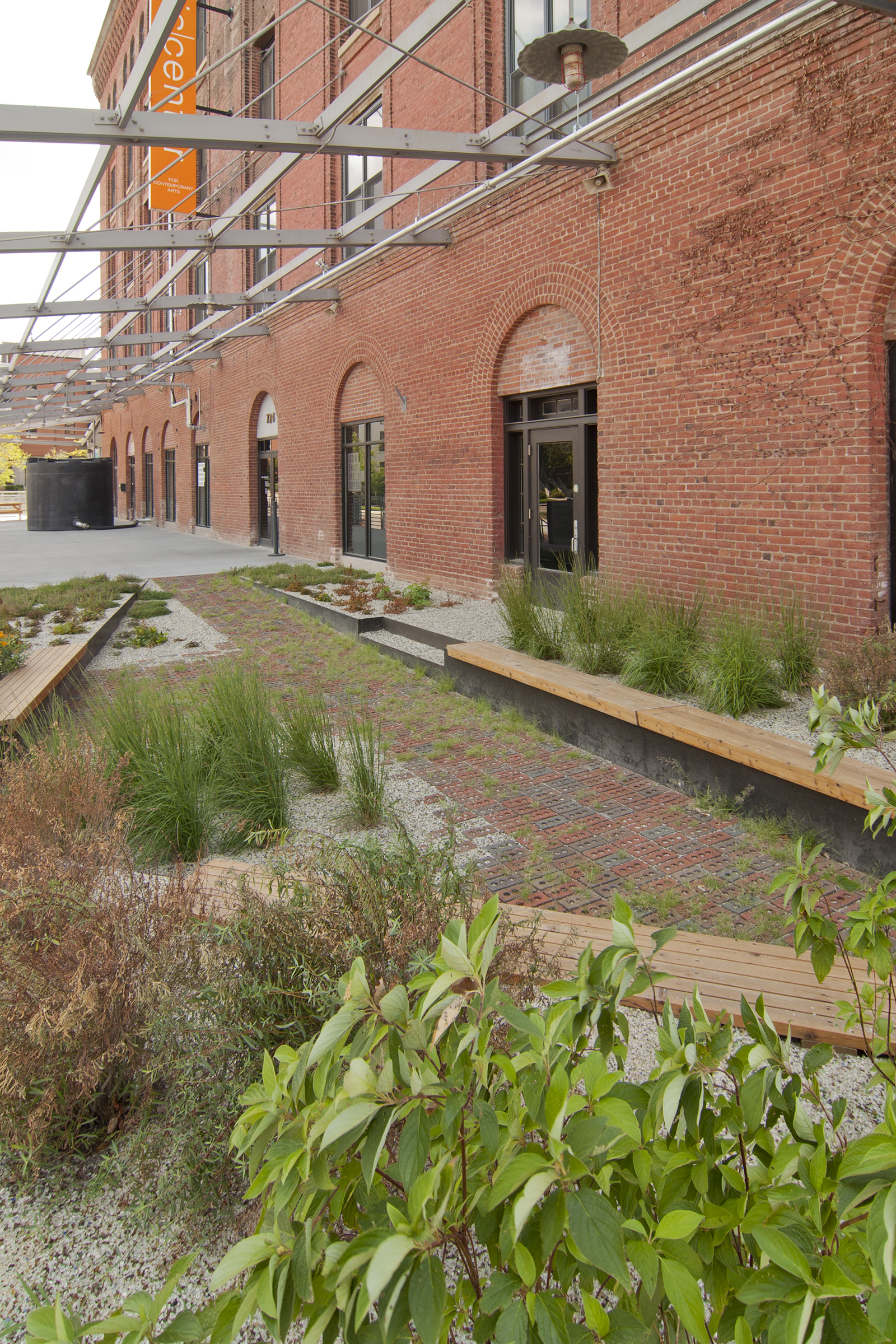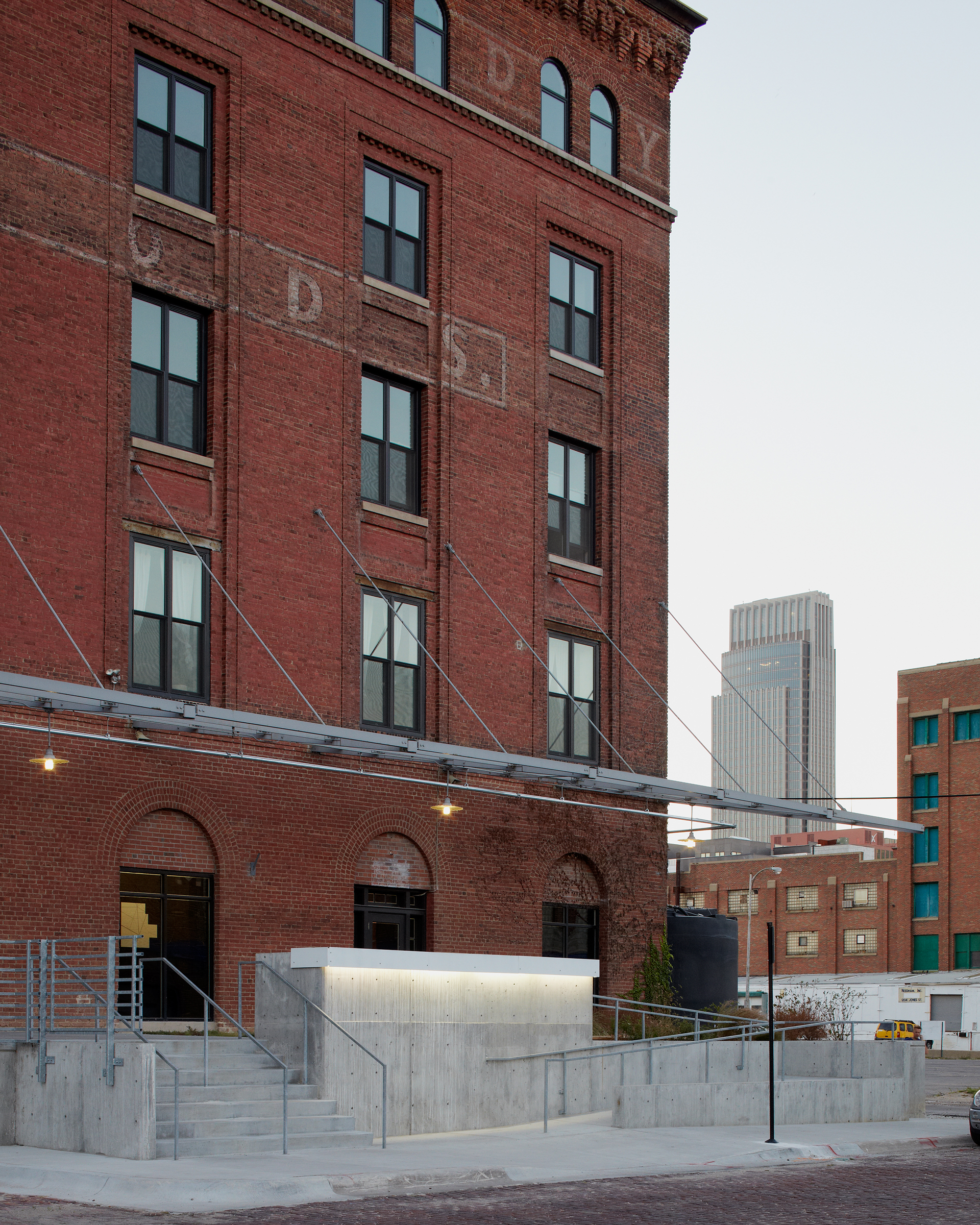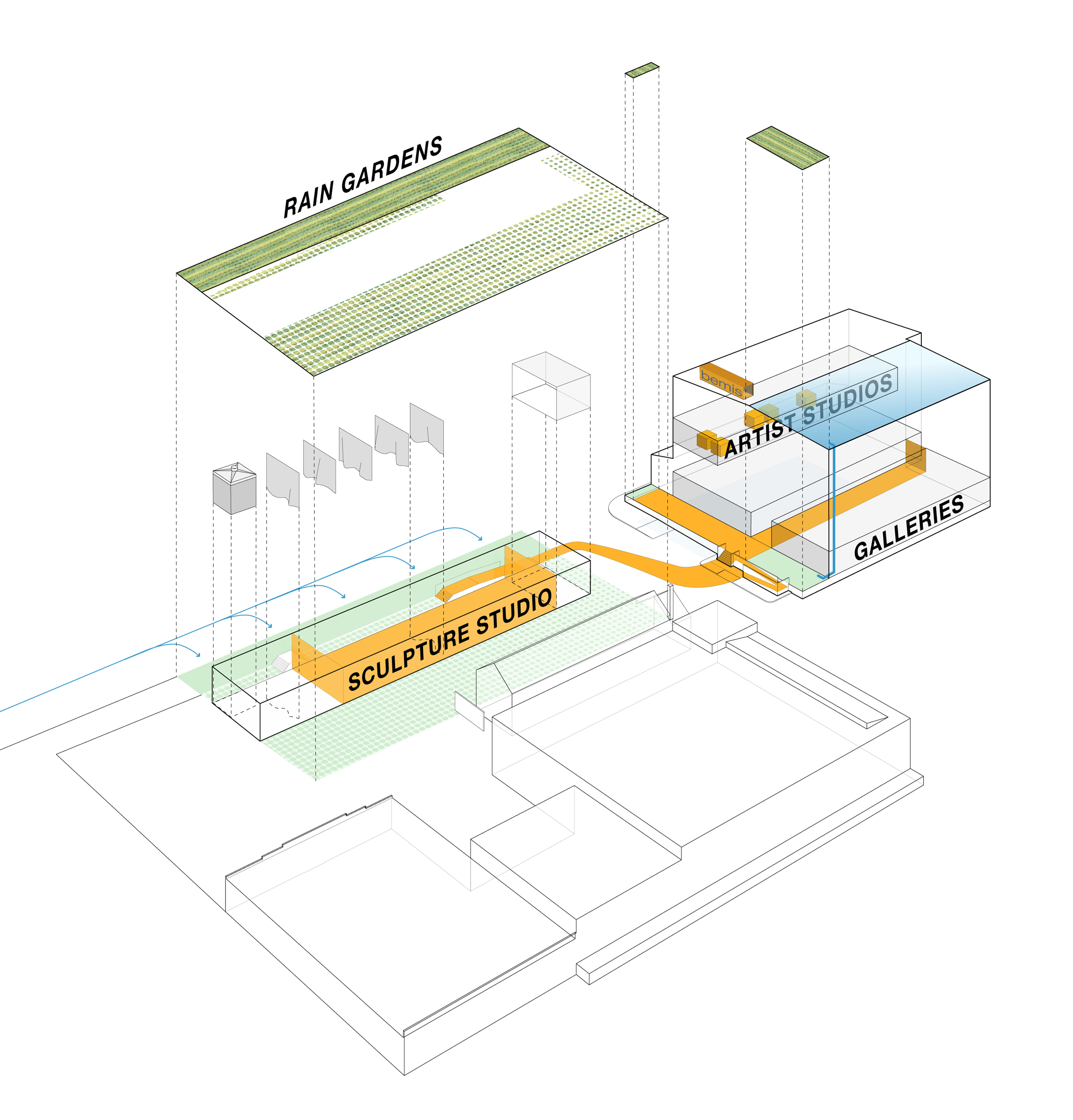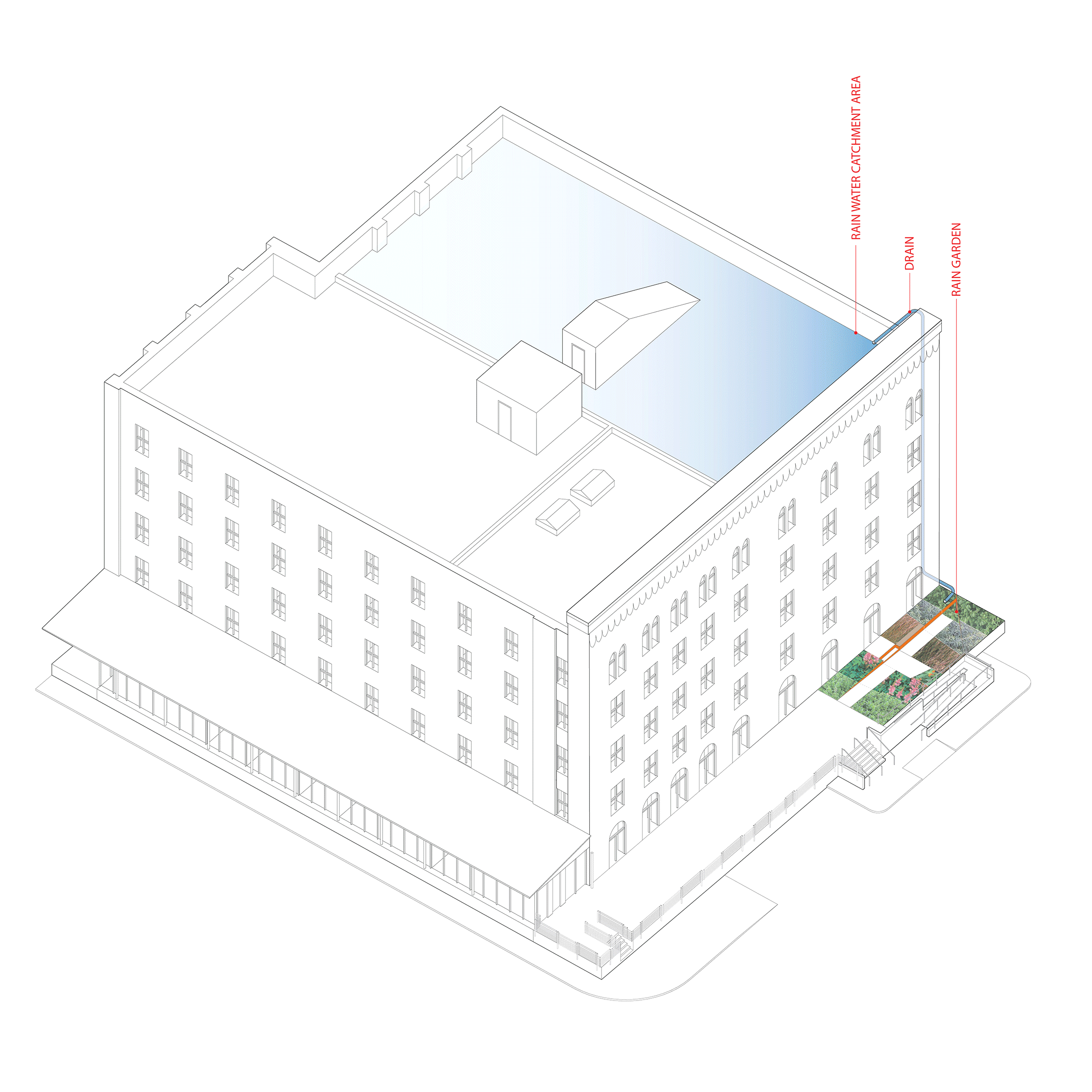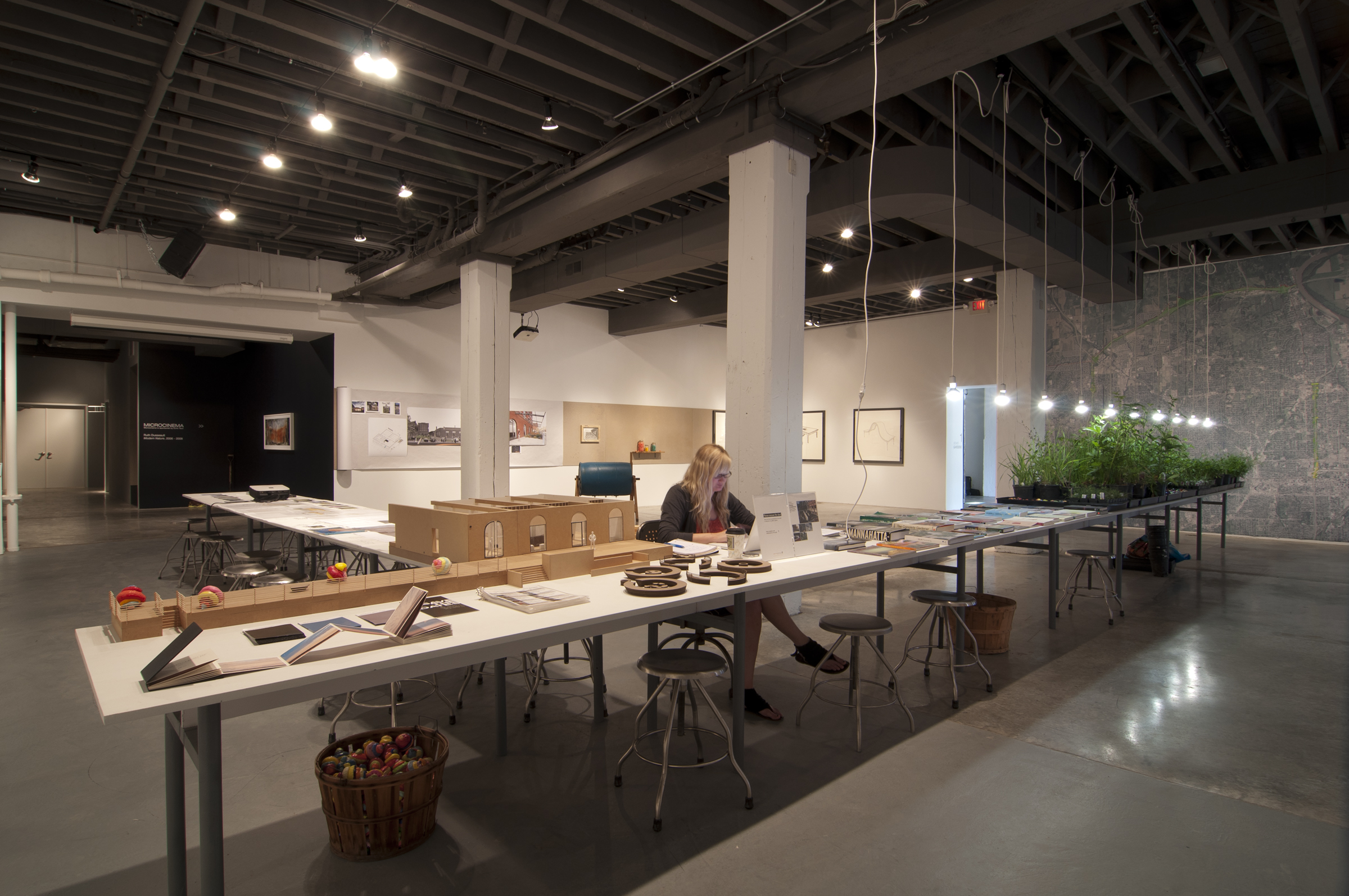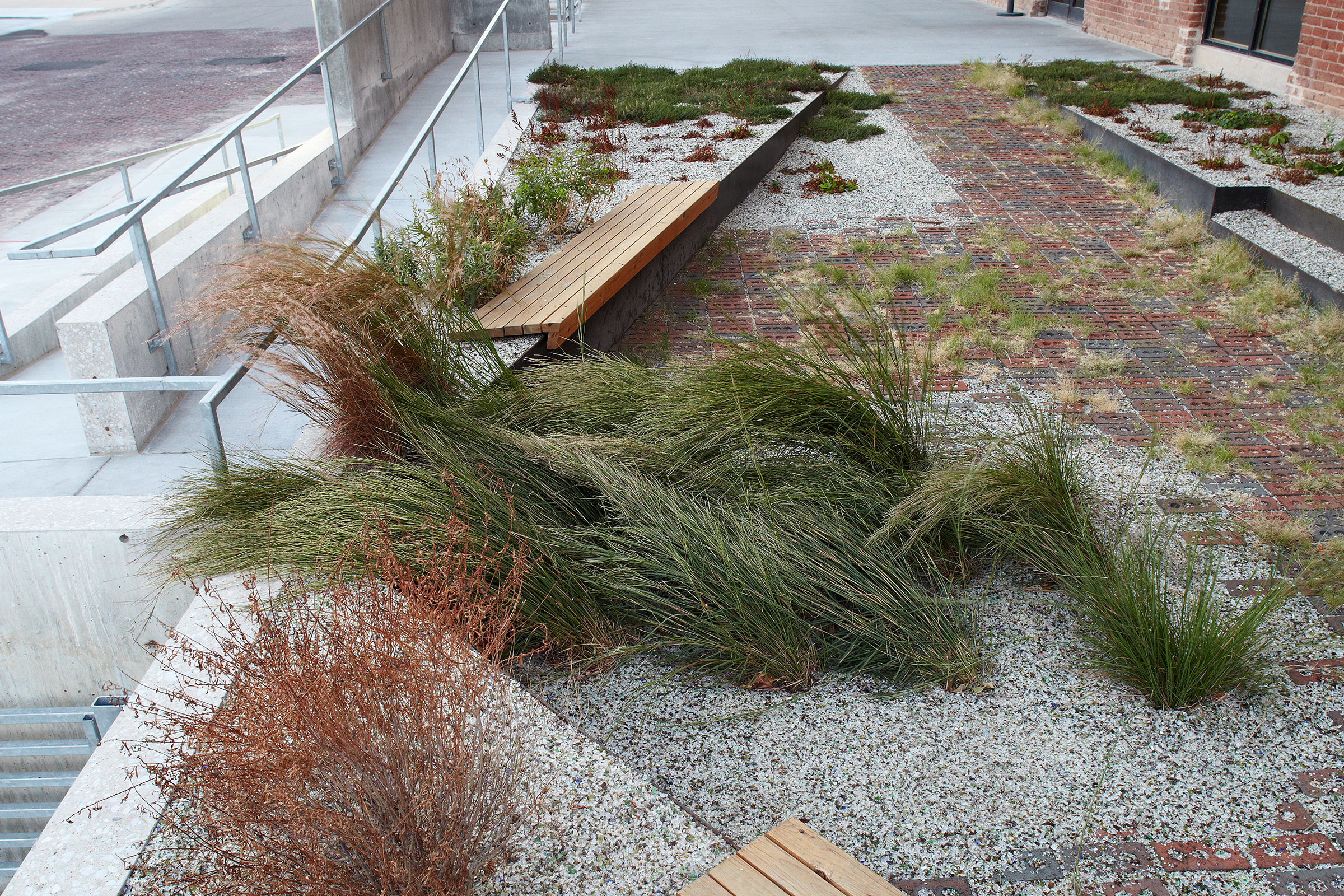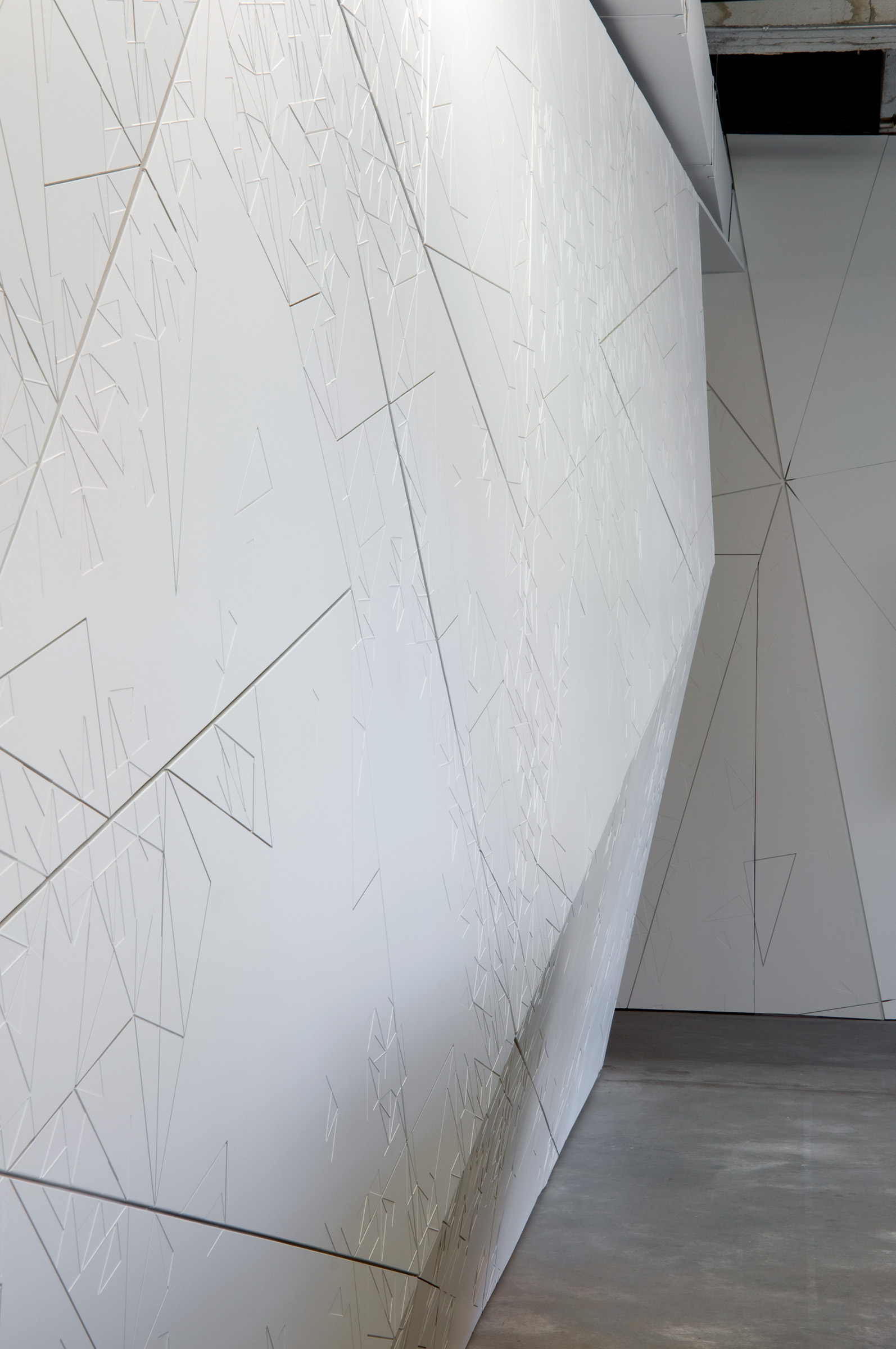 Bemis InfoShop
More than a reception area and lobby, the InfoShop focuses attention on ideas and issues brought up by gallery programs, artists, and patrons by providing a social platform for spontaneous meetings, dialog and debate. Designed for flexibility, the InfoShop is anchored by a 24'-long faceted reception desk that transforms into a bar for evening events. The walls are clad with custom, CNC-milled panels derived from a pinwheel aperiodic tiling pattern suggesting precision, complexity and playfulness. FACT students developed digital models, prototyped components, programmed fabrication code while working in partnership with inmates at a medium-security state prison on fabrication of components.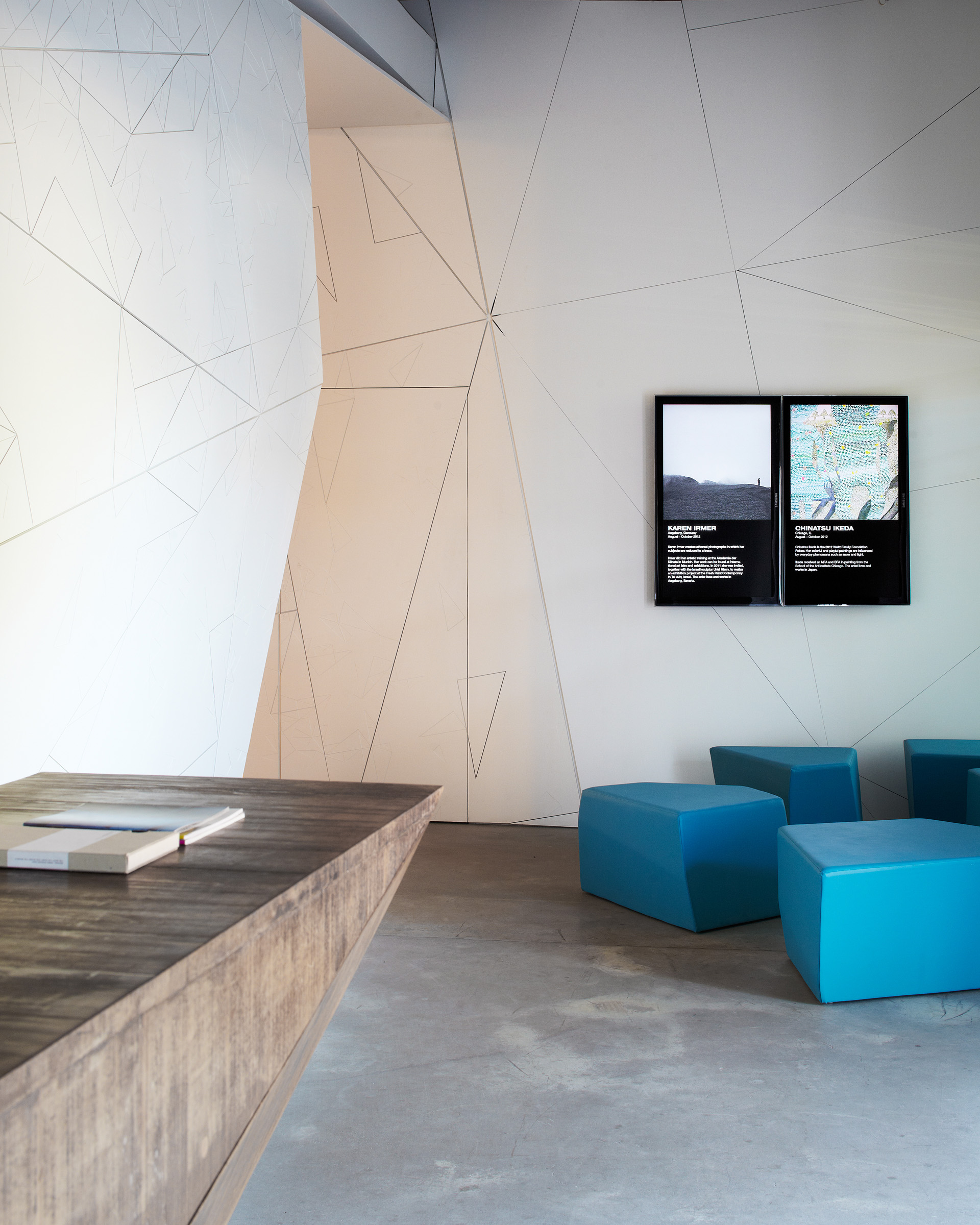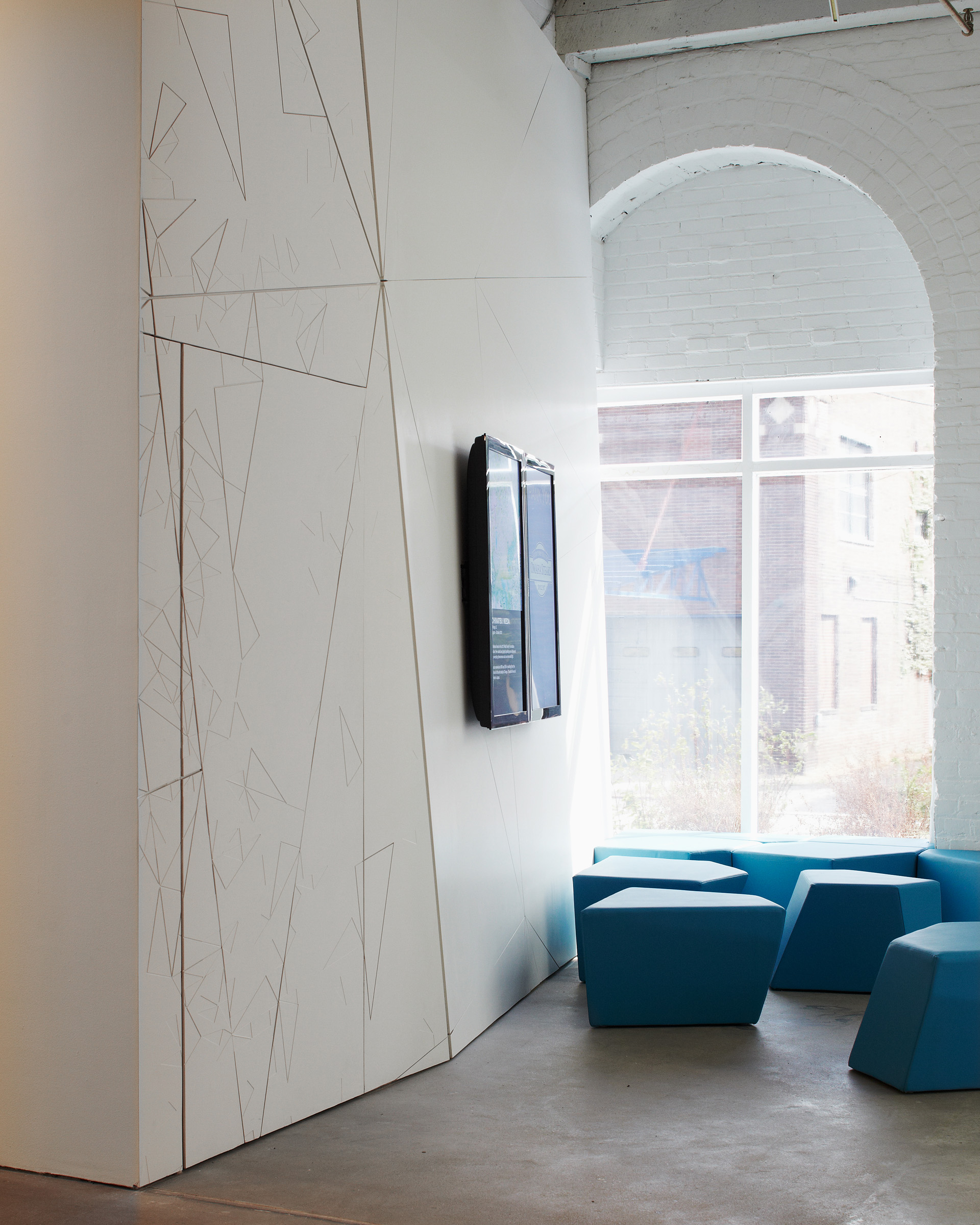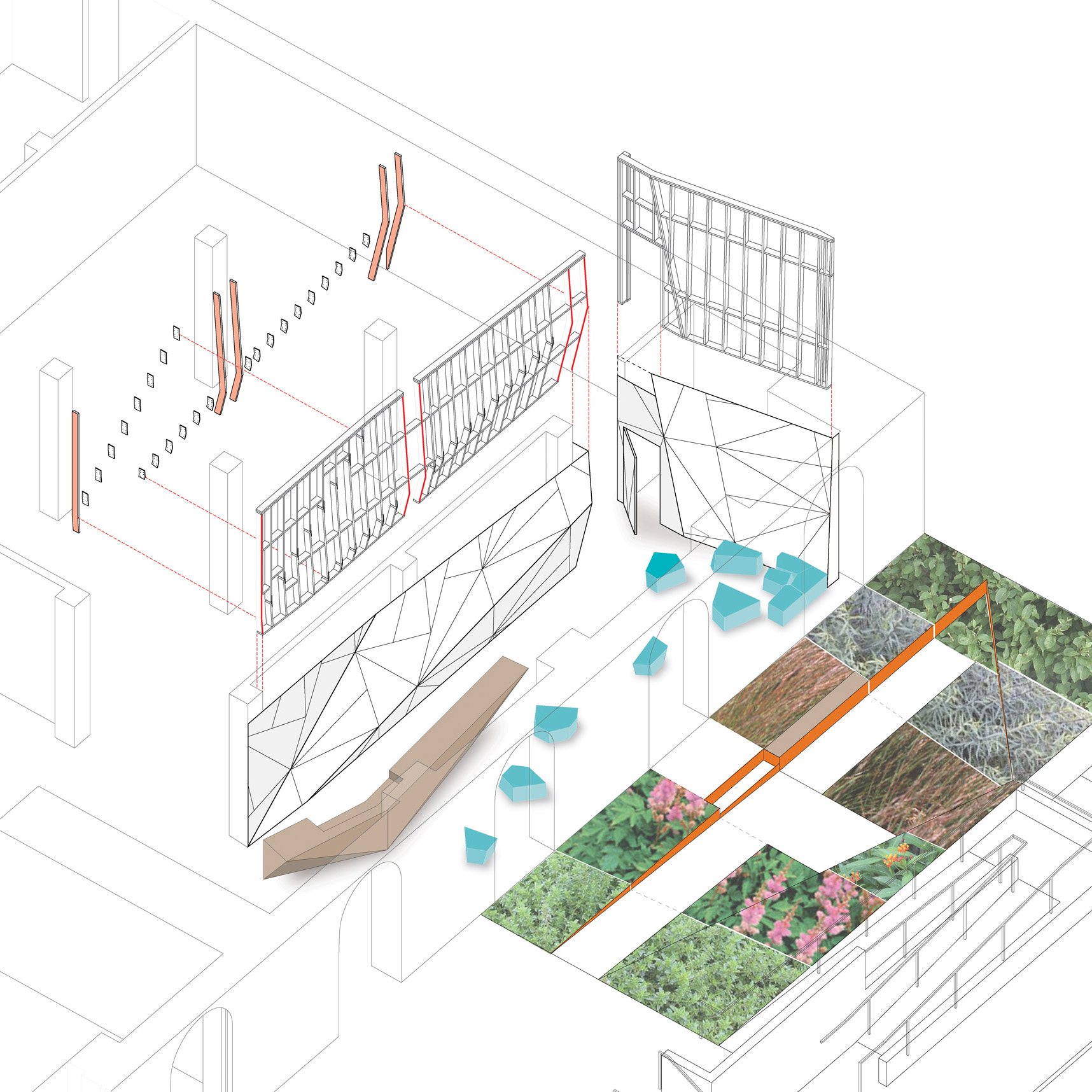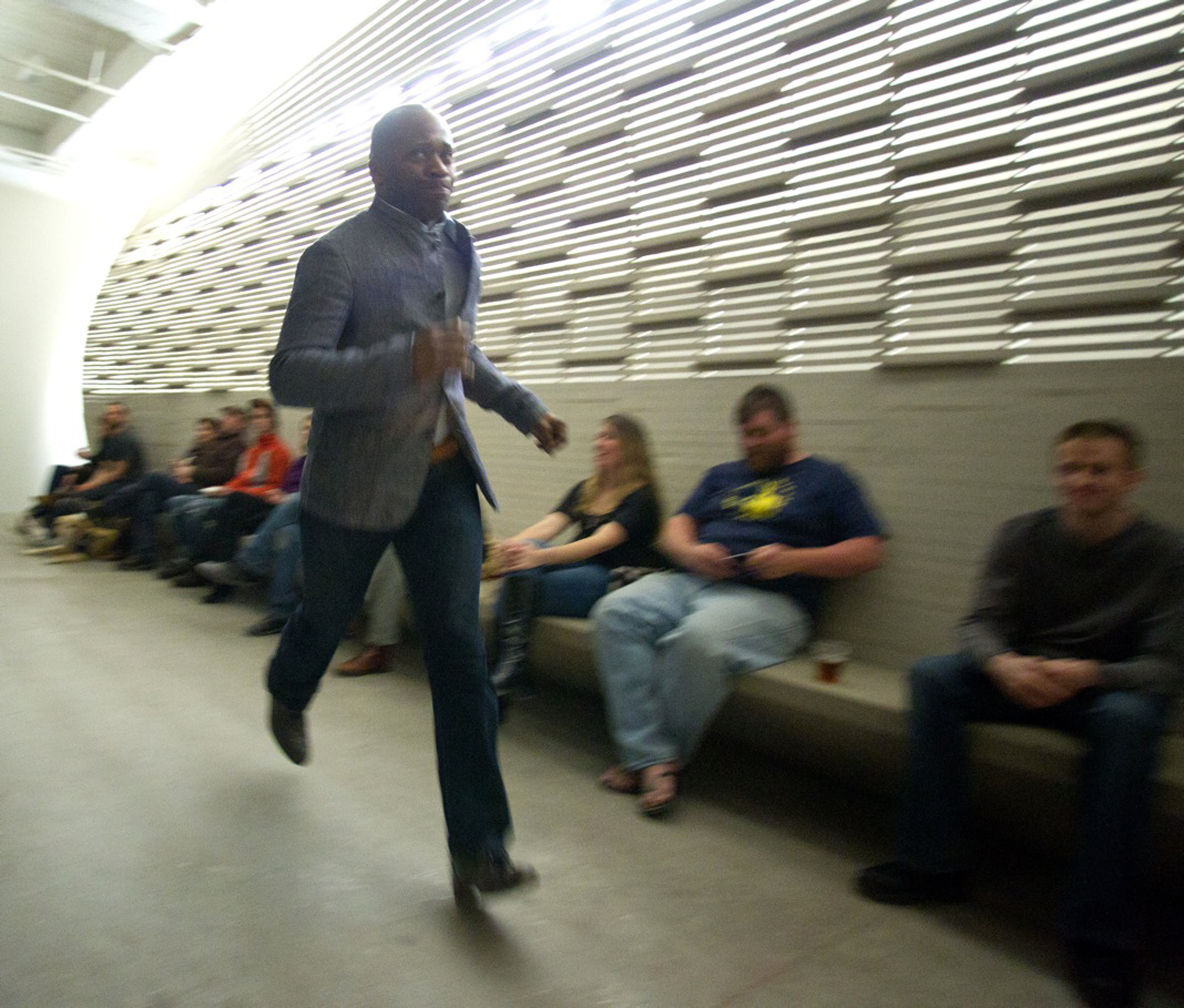 Soft Cube
An installation in a gallery at the Bemis Center, Soft Cube functions as a set of devices that soften the white cube and create a flexible, multi-purpose social platform for events and exhibitions. In contrast to the familiar site - a white gallery conversion within an early 20th century warehouse - the primary component of the Soft Cube is the Soft Wall, an undulating wall of Homasote strips with a bench of sanded Homasote as its base. The strips are nailed to a ribbed structure of plywood cut and notched with a CNC-router. The simple and repetitive application of the strips in two opposed orientations appears to float over the curved surface. The wall is backlit with shielded fluorescent strip lights.
Image: Theaster Gates performance/lecture, "Clay In My Veins and Other Thoughts", photo by Chris Machian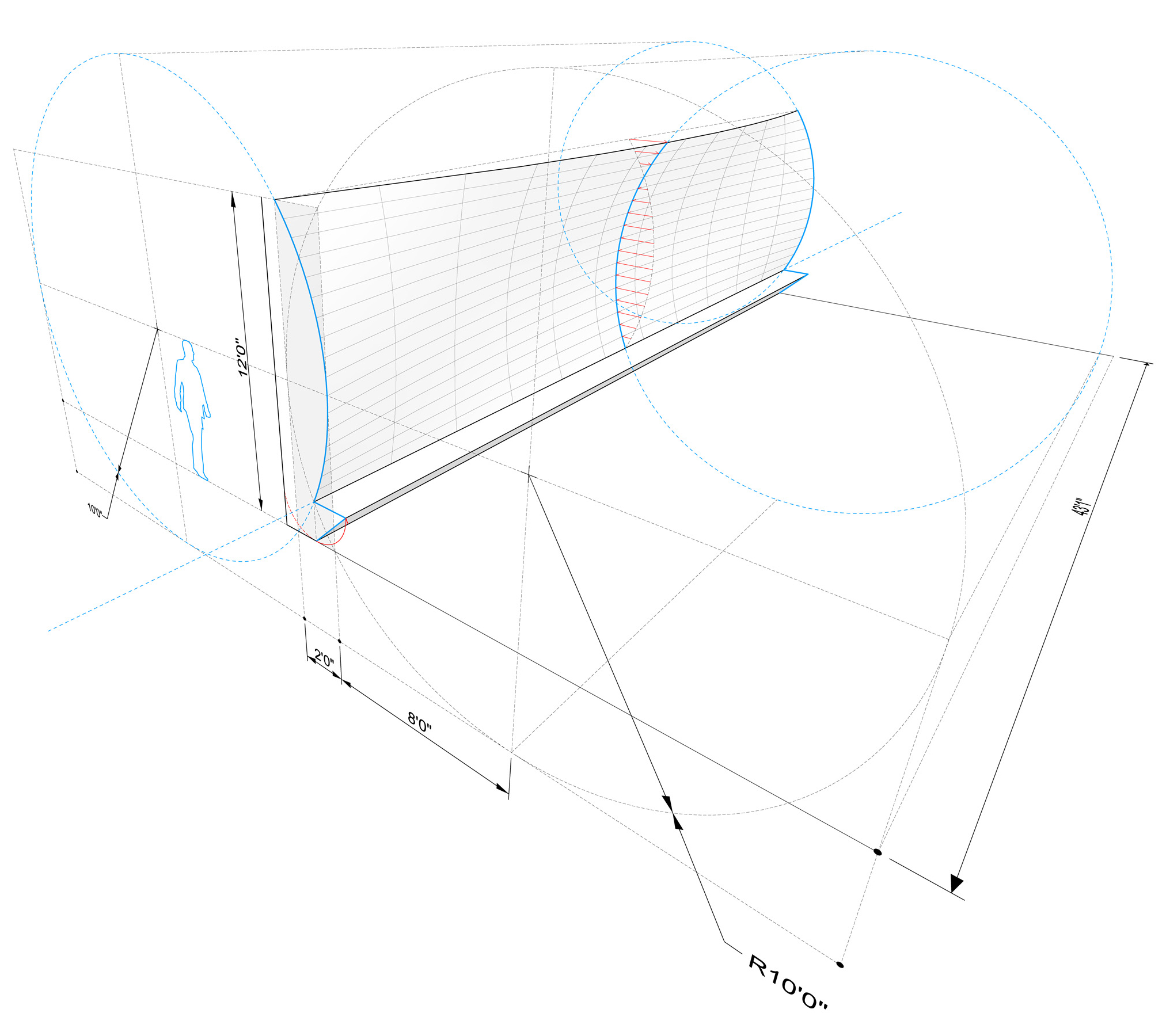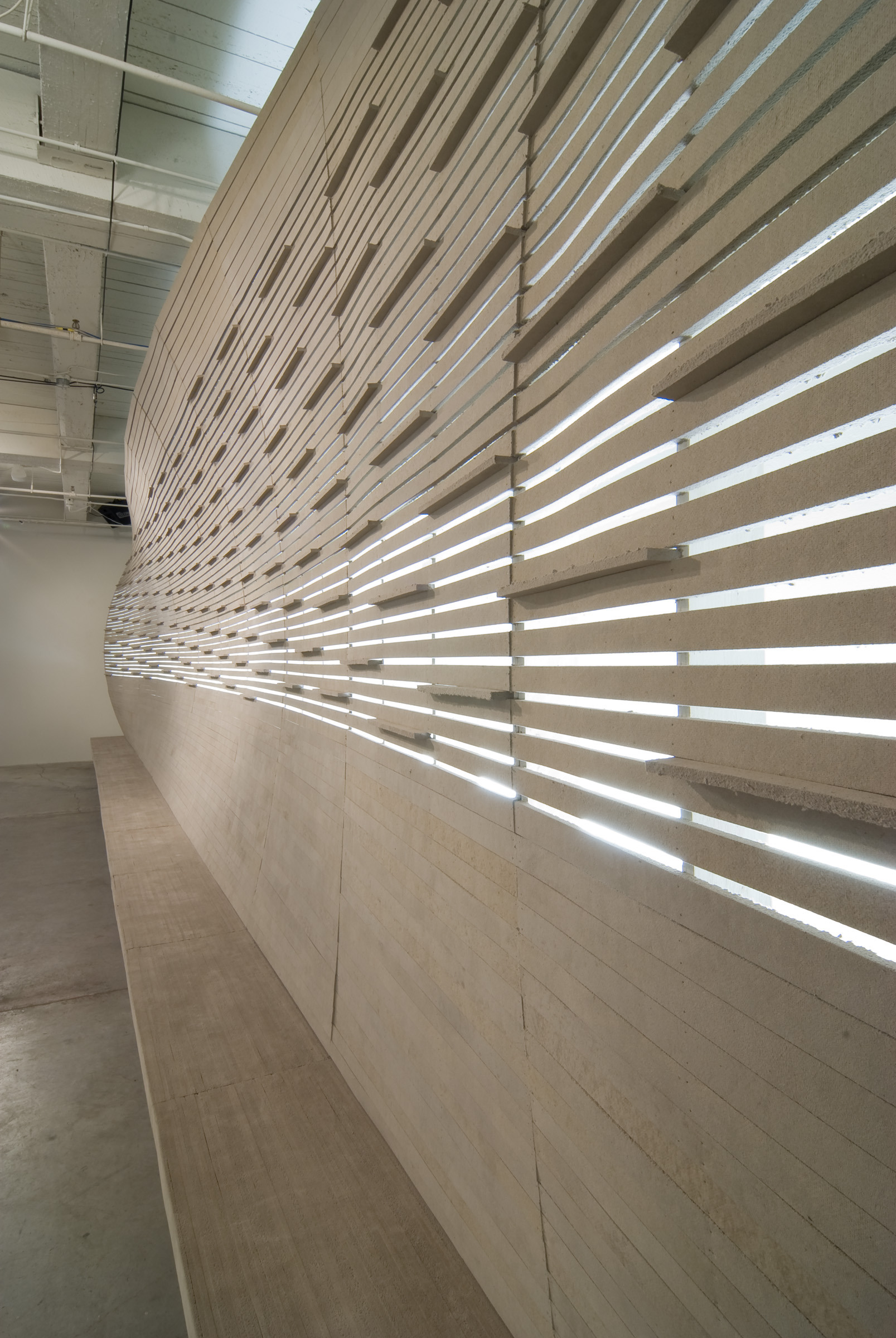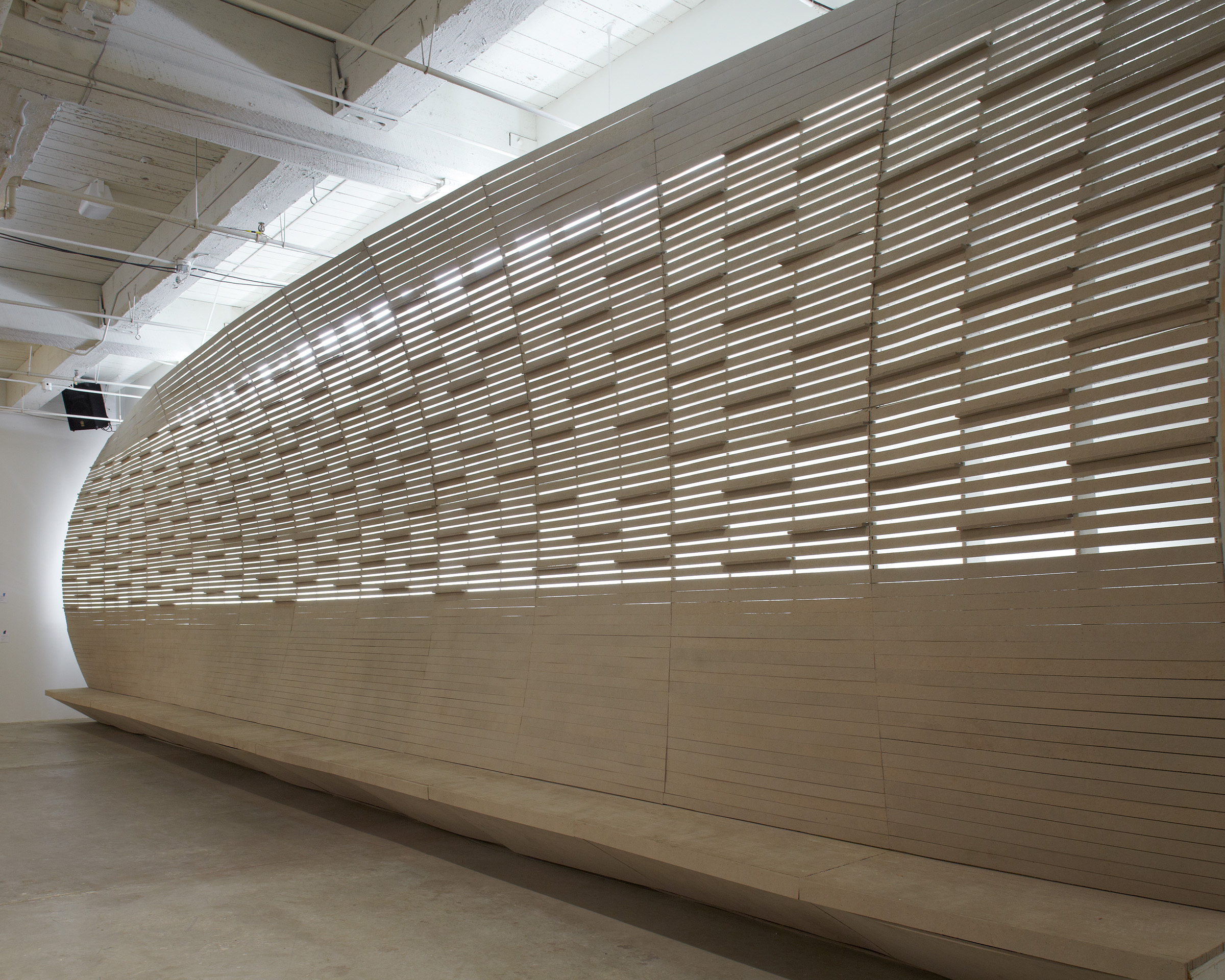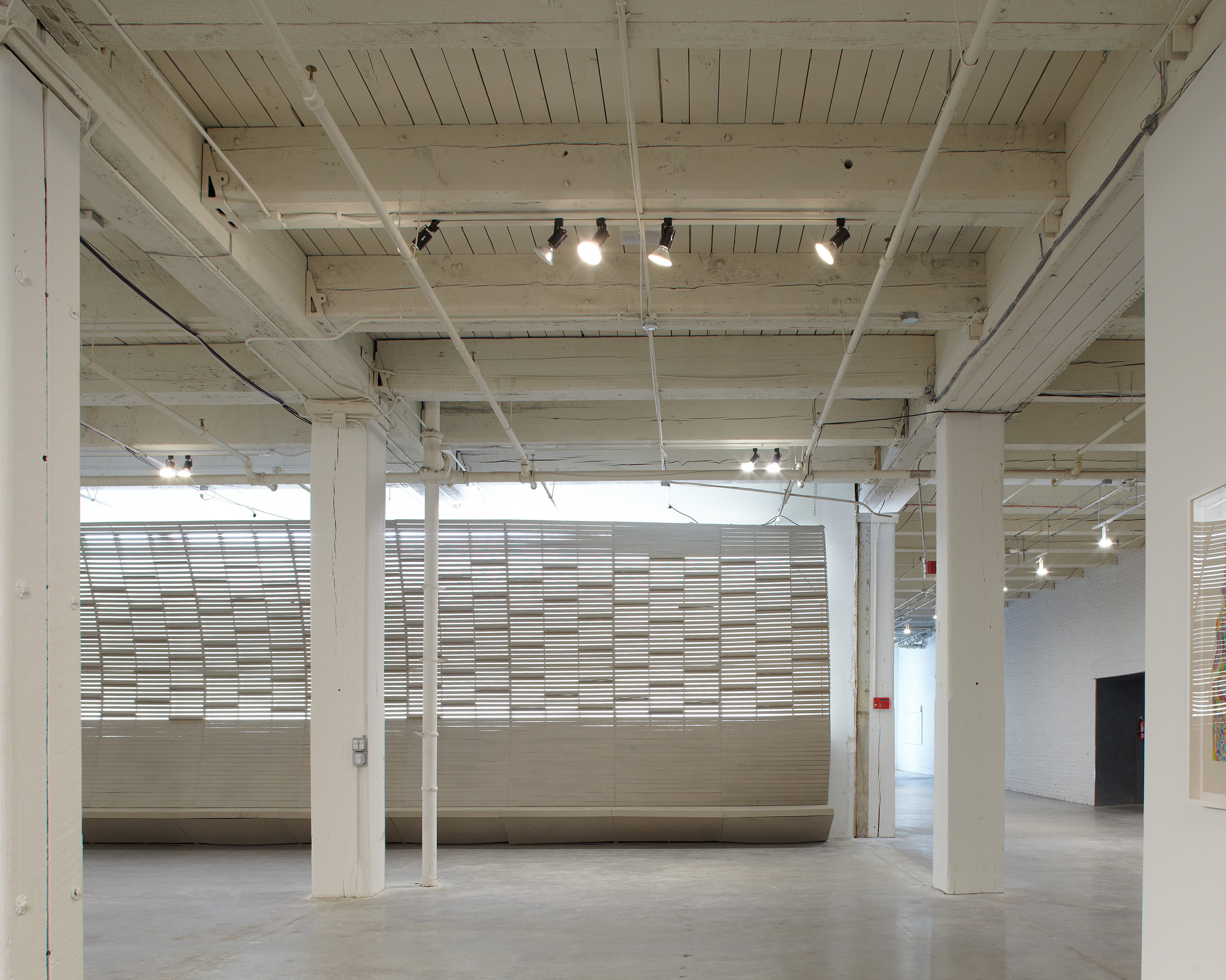 Building Bemis
For the Bemis Center's largest capital improvement project since originally moving into its current location, we worked with the board of directors, leadership, staff and stake holders to identify priority projects from our earlier framework plan. Motivating this effort was a desire to expand the core residency program. Specific projects included renovating the one-story Okada warehouse into a large workshop with ceramics studio, building out the 3rd floor of the McCord-Brady building for live work studios, and further opening up the exhibition gallery floor to improve flexibility and flow.
Architecture of Record: AO*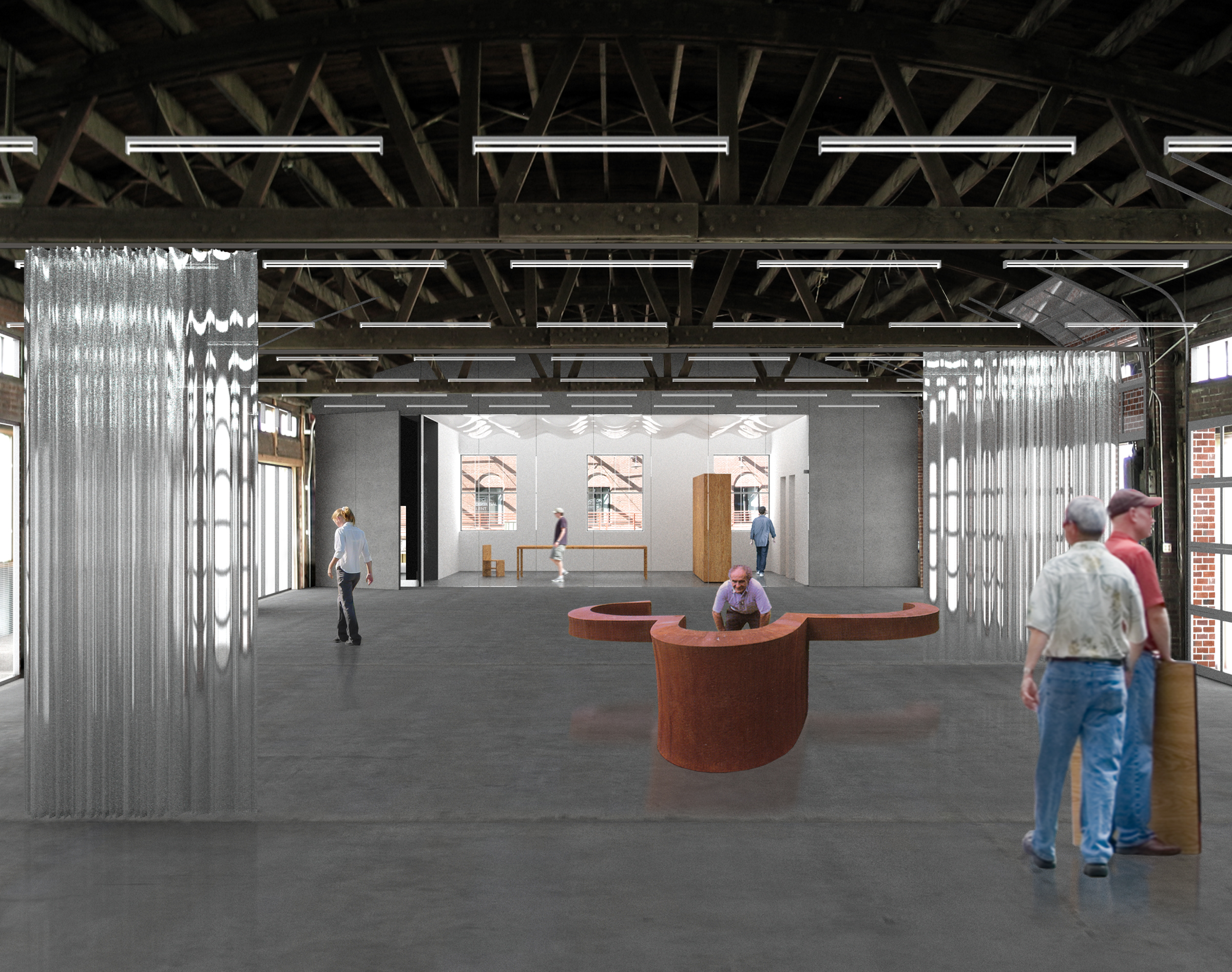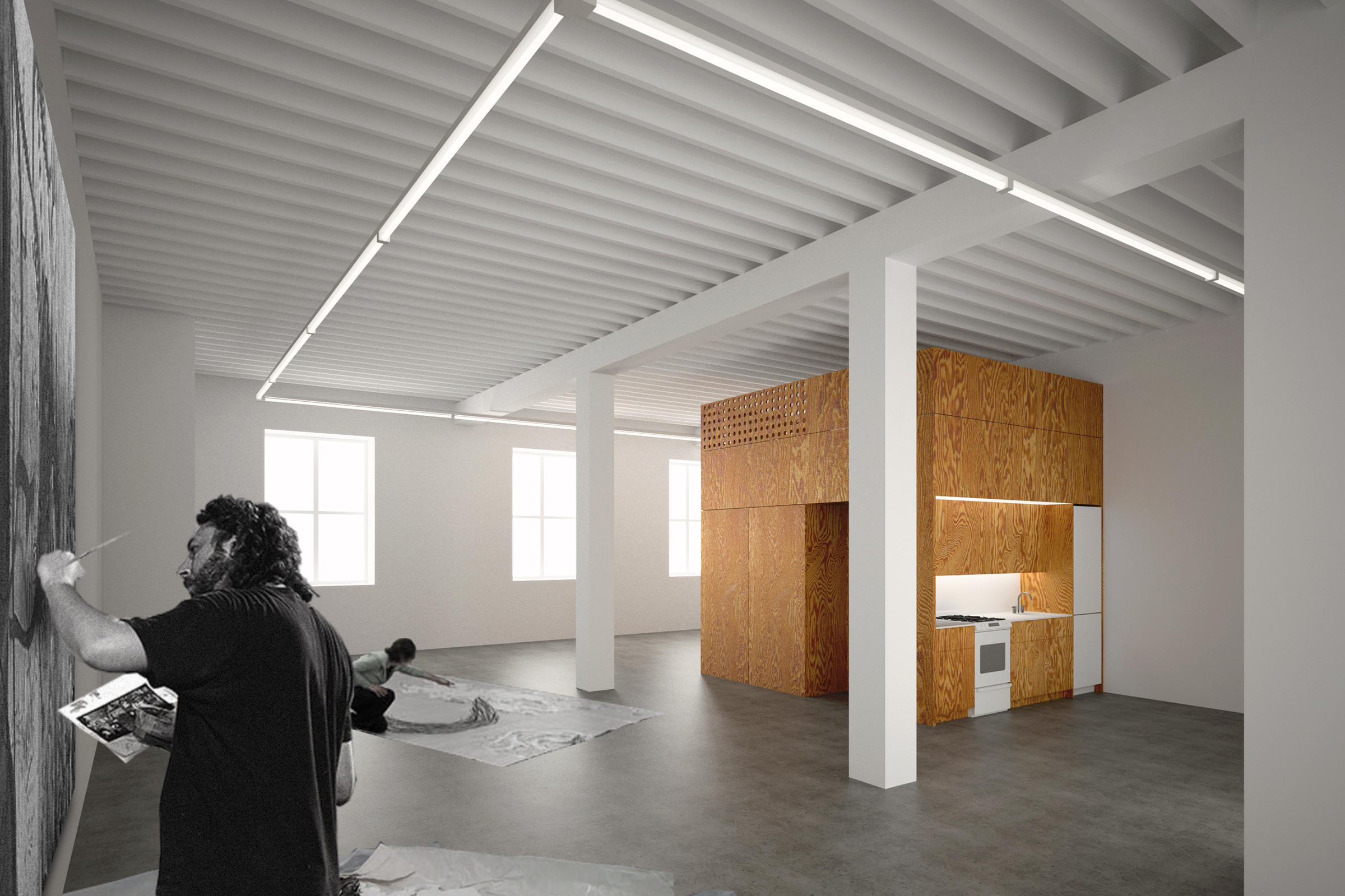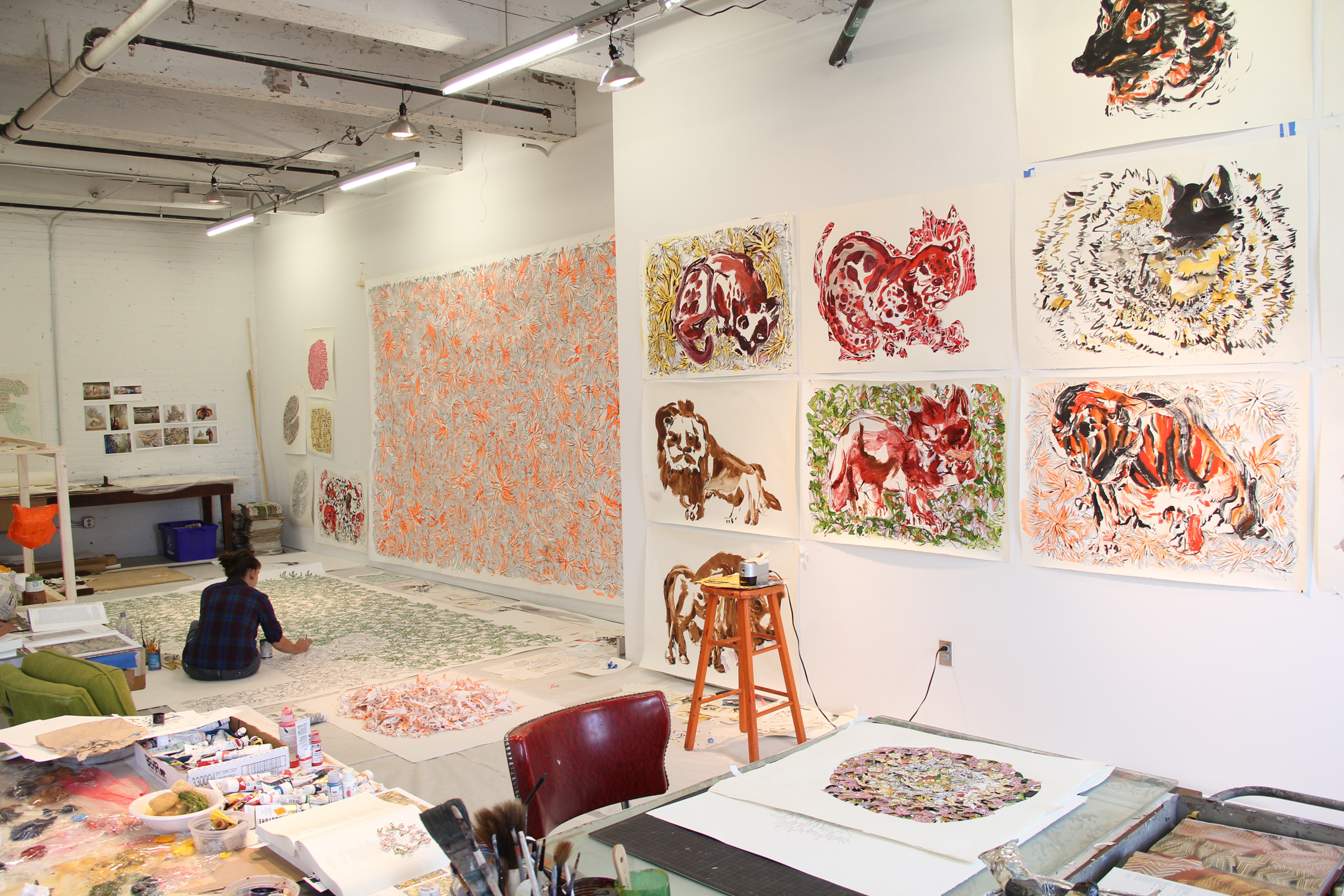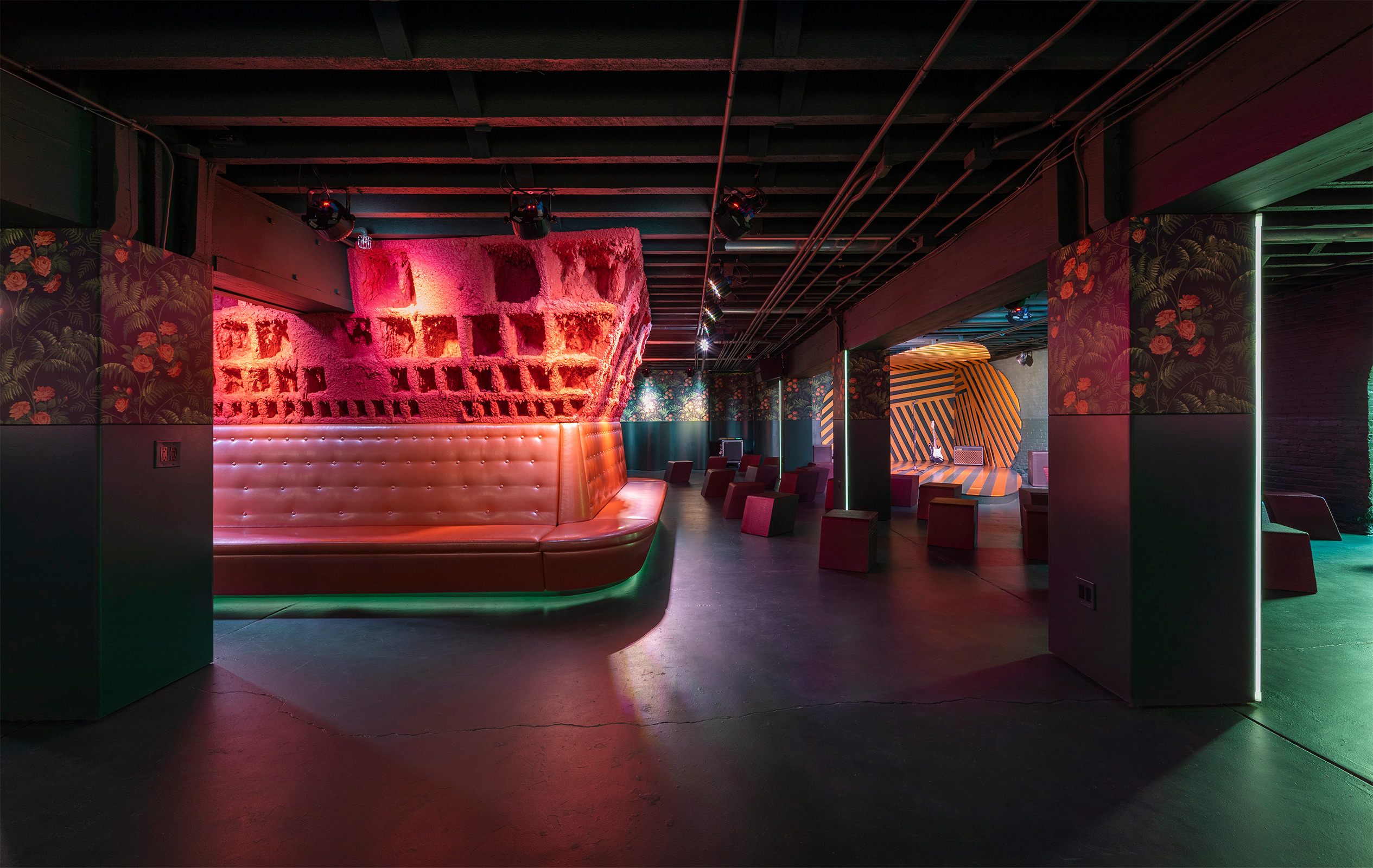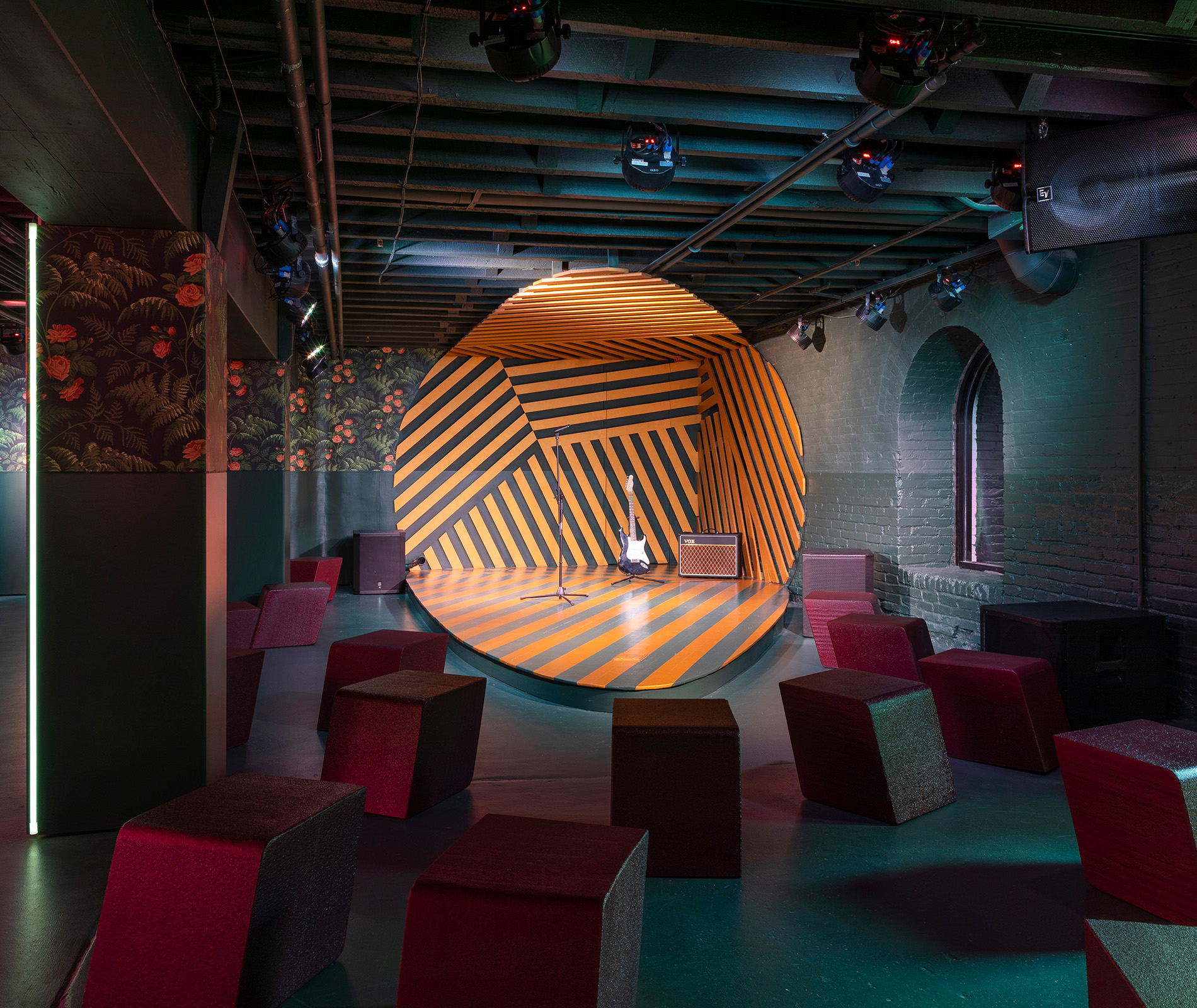 Bemis Sound Art + Experimental Music program
As part of the Bemis Center's international Artist-in-Residence Program, Bemis Sound is a specialized track offering three-month residencies to artists pushing the boundaries of sound, composition, voice, and music of all genres. Open to national and international artists, participants receive the same level of financial, technical, and administrative support as their fellow artists-in-residence at the Bemis, along with dedicated facilities for rehearsing, recording, and performing new works that expand the field of sound art and music. The project is supported in part by a $500,000 grant from the Andrew W. Mellon Foundation.
Actual Architecture Co. and FACT students collaborated with prominent musicians, artists, designers, sound engineers, tradespeople, and Bemis staff to design the unique venue and its support facilities. Spaces includes a performance venue, a pre-event bar, a merchandise store, a green room for artists, a recording studio with live and dead rooms, and storage. AO* served as Architect of Record for permitting and life safety.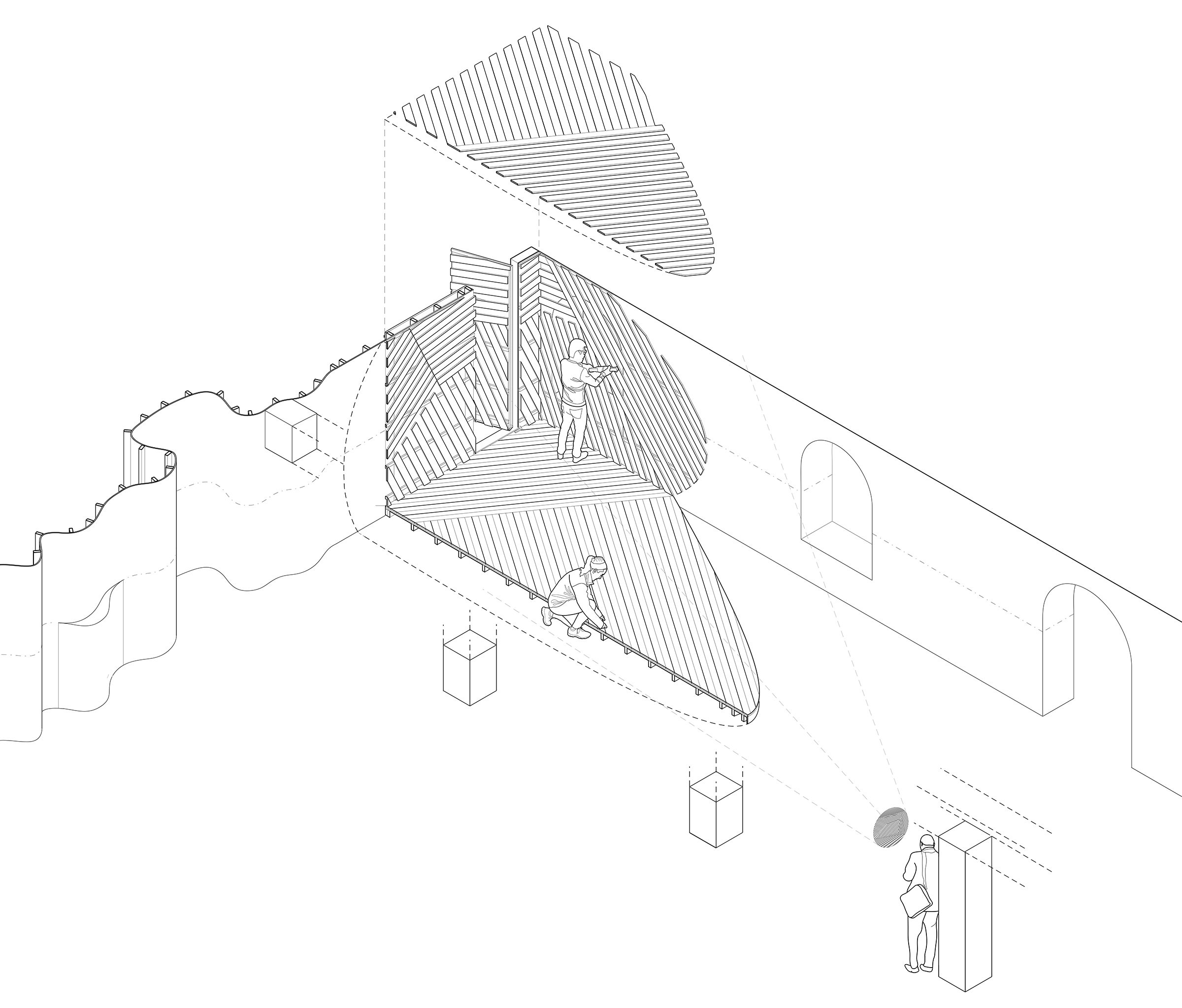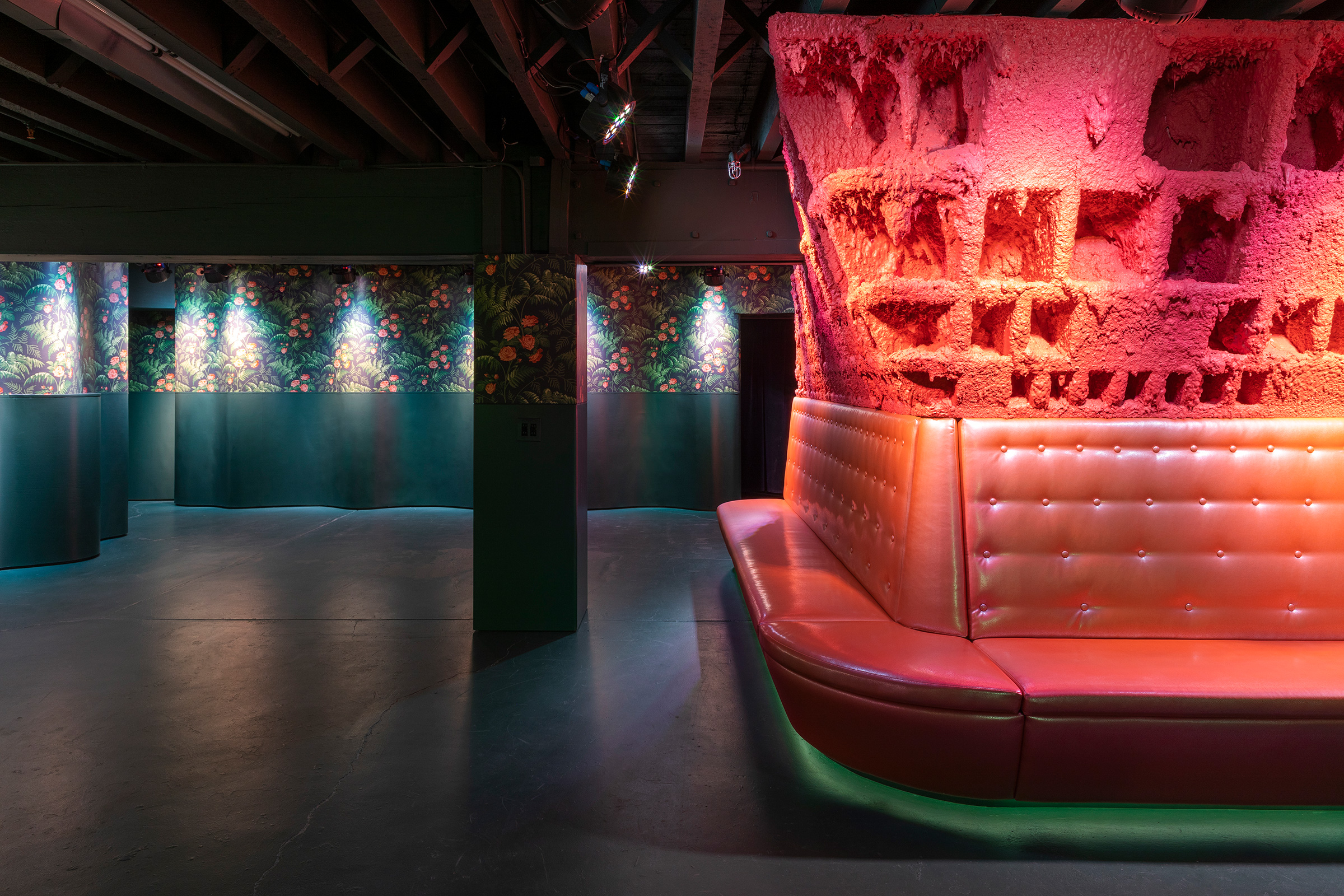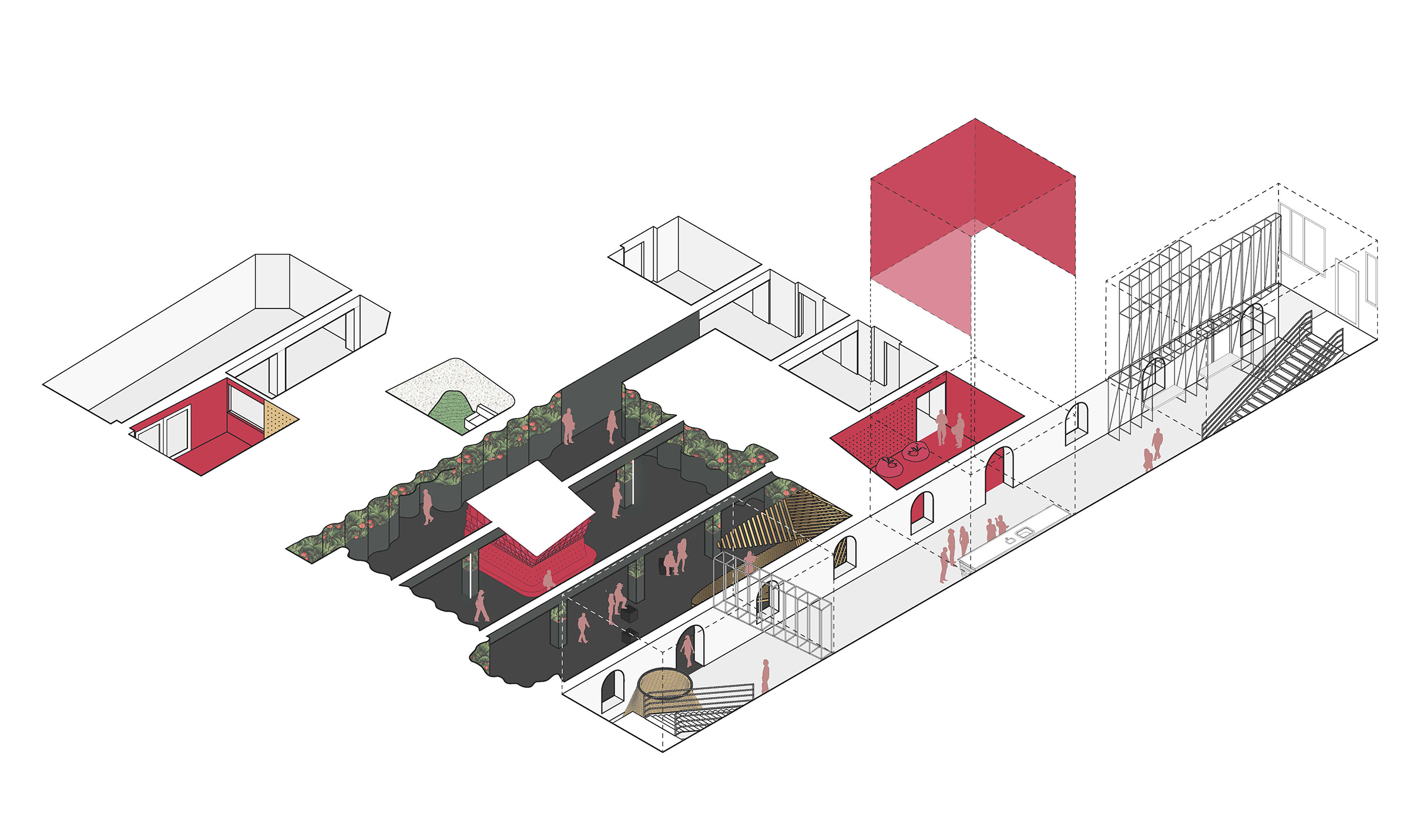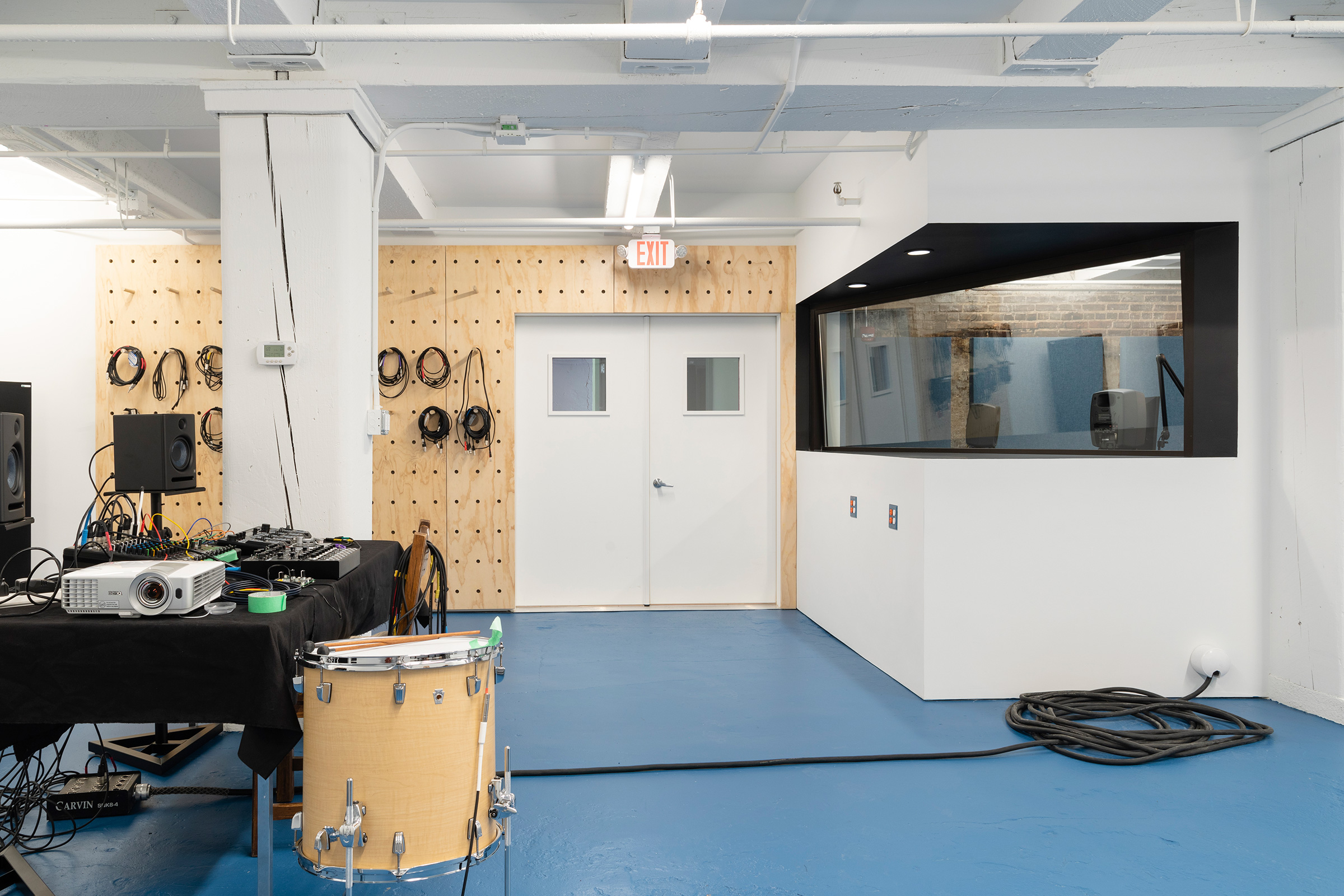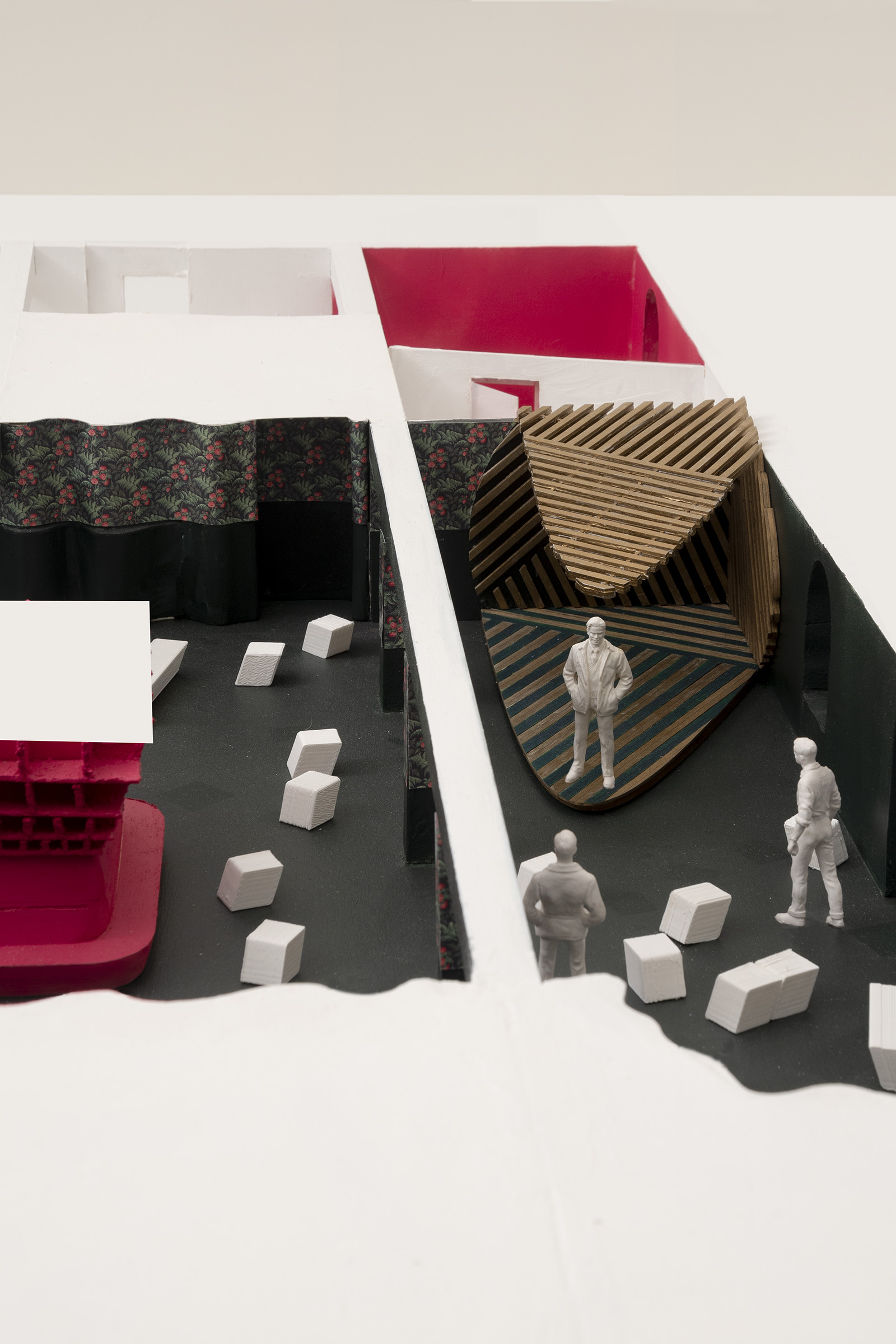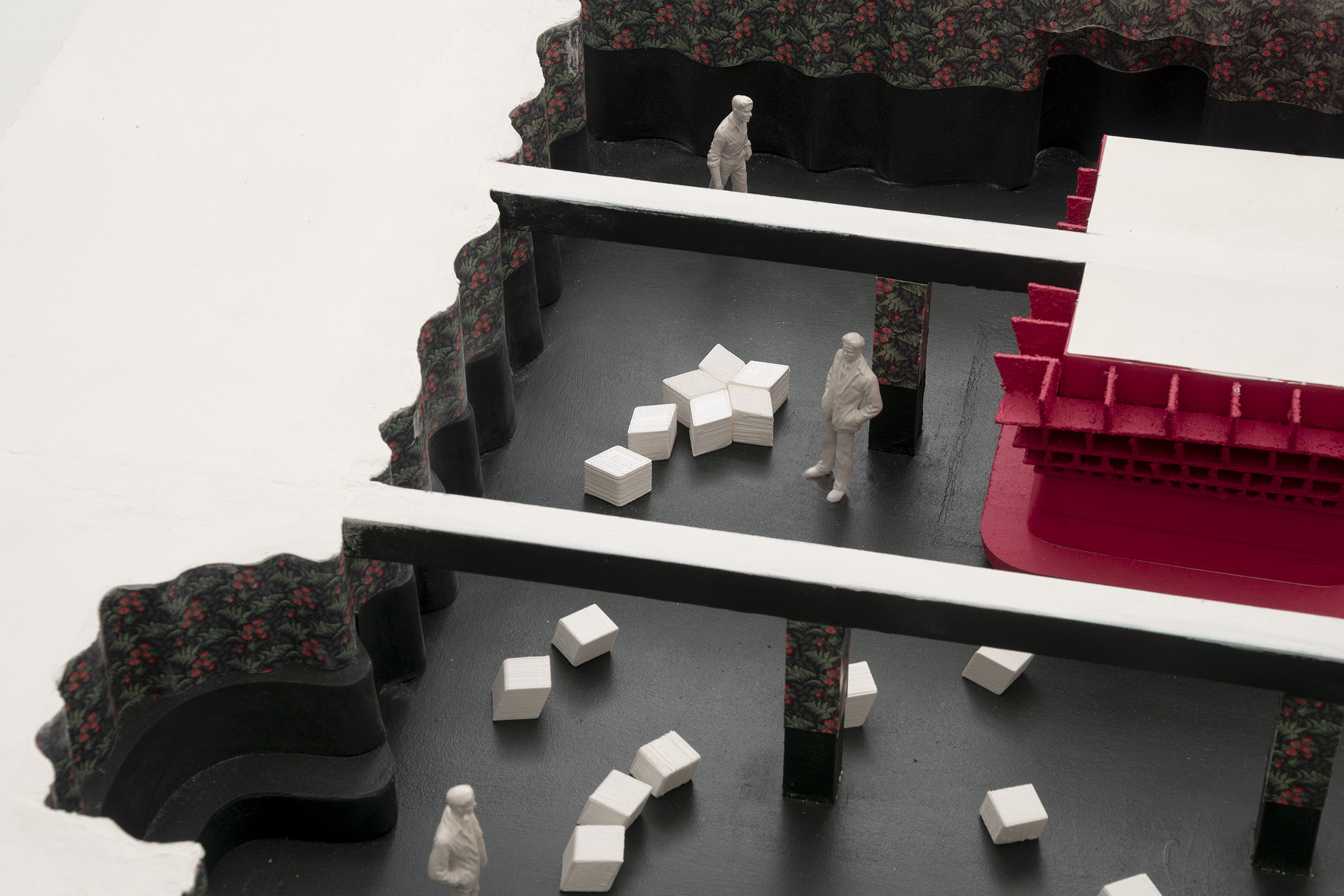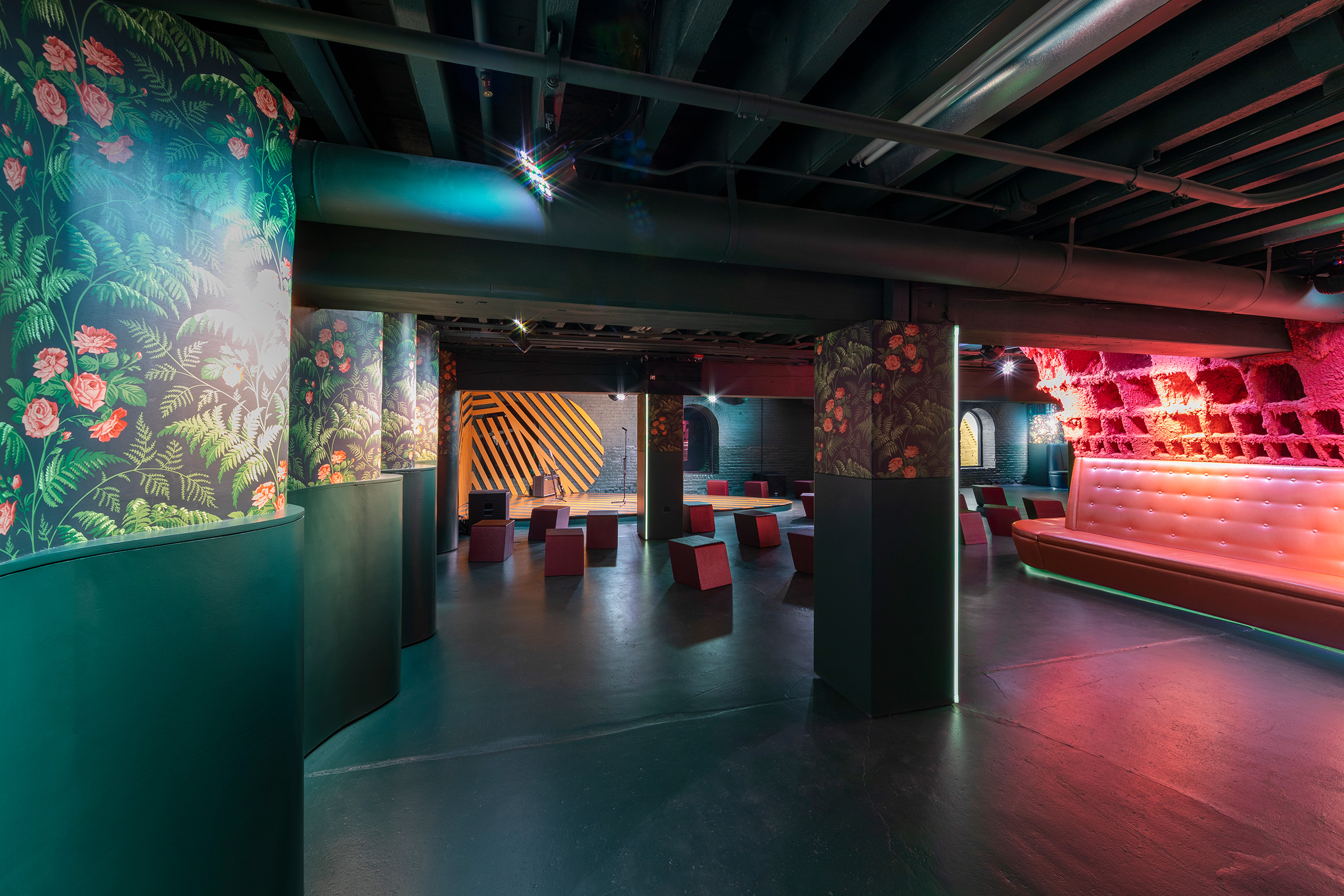 Exploring the boundaries of conventional architectural taste and expectations of design precision, the bold interior environment aims both for longevity and the unexpected. Phase-one construction was substantially completed in October 2019 when artists inaugurated the space with the first public performances. Phase-two of the ambitious project commenced in 2020, paused during the pandemic, and was completed in 2022.
Project Awards
2022 AIA Central States Honor Award for Architectural Interiors (LOW END)
2020 AIA Nebraska Honor Award for Architectural Interiors
2016 ACSA Collaborative Practice Award
2013 AIA National Small Project Honor Award
2013 ACSA Design Build Award
2013 AIA San Francisco Honor Award
2011 AIA Nebraska Honor Award for Details
2010 AIA Nebraska Merit Award
2010 AIA Central States Region Honor Award
2003 ACSA Faculty Design Award
2007 AIA Nebraska Honor Award for Unbuilt Work
Photography by Larry Gawel, Mike Sinclair, Colin Conces, Bemis Center, and others as indicated.
View by Category:
View by Type: